An unexpected adventure in the White Mountains.
This is a story of getting lost in the wilderness of White Mountains and battling overnight to reach civilization on a weekend in late fall of 2007.
Please refer to the maps of Figure 1 and 2 at the end of this page for various locations described in the text.
Prologue
After hiking to Mount Washington Summit on the Christmas of 2006, I kept thinking about going back to reach the summit without spending most of my energy fighting the ice. I signed up for a Presidential Traverse - Hiking the Presidential Range from its north end to its south - in June 2007, but I was put on the wait list and never heard from the group since its initial response. I attempted to organize a group to do the traverse but failed to attract any serious interest. In later October, I decided to cross the Presidential Range before the ice would cover it. I booked lodging at Appalachian Mountain Club(AMC)'s Highland Center at Crawford Notch for two nights (Friday 2007-11-02 and Saturday 2007-11-03). Originally I planned to take a shuttle bus to Pinkham Notch to hike to the summit and come down to Highland Center via the Crawford Path, but I found the Hiker Shuttle only runs through October 14. I planned to find the transportation after arriving at the Highland Center.
I started out from Ipswich at about 14:30 and reached the Highland Center at about 18:00 after stopping for refueling my car and a brief shopping at an L. L. Beans outlet store in North Conway (the hiking map purchased there is very good and turned out to be extremely useful). I enjoyed a very good buffet dinner with a group of AMC members (two from Vermont and one from Cape Cod, Massachusetts). I joined a group of people for a 0.5 miles hike to the nearby Ammonoosuc Lake at 20:00. After talking to the staff of Highland Center, I realized that morning transportation from the Highland Center to Pinkham Notch is unrealistic. I decided to pursue plan B - taking Crawford Path to and from Mount Washington. I went to bed at 22:00 in room Washington after checking my email and putting my laptop, mobile phone and Forerunner GPS watch on charge.
Ascent
I woke up at about 5:00 on Saturday, November 3. After regular morning rituals, I did some stretching and yoga. I hit the dinning room for a very hearty breakfast anticipating a long strenuous day. I talked to the AMC staff again and confirmed the weather would be mild until early afternoon when there would be 50% chance of rain and strong wind resulted from the peripheral effect of Hurricane Noel. I was determined to stick with the plan to hike to the summit through the Crawford Path, but prepared to come down with a different one to minimize the distance on the exposed ridge. One of them would be through Edmands Path leading to an auto road - Mt. Clinton Road. I also decided to take all the extra small loops to reach all the peaks instead of staying strictly on the Crawford Path.
I had to move from Washington Room (a private room) to Eisenhower Room (a shared room) because there would be a big gathering of veteran hutters that dayy and I could book the private room only for one night. I prepared a very light backpack as I always prefer for hiking. It contained 5 small bottles of spring water, 6 power bars, a digital camera, binoculars, a pair of ultra-light hiking poles, a flashlight, my mobile phone, a cap, two extra pairs of pants one of which is water proof running pants, and an extra dryLETE long sleeve, one extra pair of gloves. I started out wearing trail shoes, running pants, a dryLETE long sleeve and a 2001 Boston Marathon running jacket.
I turned on my Forerunner 205 GPS watch when I stepped out of the Highland Center. The time was 7:26 Saturday, November 3, 2007. The elevation was 1900 ft. It was cloudy and the temperature was in 30s°F. Steep ascending immediately started. It was very quiet. Very soon I got so warm that I had to open my jacket. My dryLETE long sleeve is excellent in moisture management so I felt very comfortable.
I took the the first extra loop to reach Mizpath Spring Hut at 8:43. The distance from the start was 2.66 miles. The elevation was 3777 ft. I saw two men emerging from a tent at Nauman Tentsite.
After taking a few photos of the closed hut, I was en route to Mount Pierce which I reached at 9:01 at elevation 4312 ft. The distance from the start was 3.3 miles.
I wasted no time in ascending to Mount Eisenhower by taking the second extra loop. I reached it at 9:43 at elevation 4760 ft. The distance from the start was 4.85 miles.
Mount Franklin was the next presidential peak on the Crawford path, so I must have passed it, but I did not know where it was because I saw no sign. It is probably just a small bump between Mount Eisenhower and Mount Monroe.
I took the third extra loop to reach Mount Monroe at 10:44. The howling wind made me to lower my profile in fear of being blown away. The elevation was 5372 ft. The distance from the start was 7.15 miles. I ran across another solo hiker on my way to Mount Monroe and a group of 4 hikers while descending.
I descended to the Lakes of the Clouds at 10:57. The elevation was 5012 ft.. The distance from the start was 7.45 miles. The so called lakes are actually two small ponds. They were partially covered by ice.
I started my final ascent to the summit after taking a few pictures. I caught three guys who are apparently college friends and now live in three different states and came to visit one of them living in New Hampshire. They drove to the cog railway station the closest parking spot (4.5 miles) to the summit in Winter. I could not afford their leisurely pace and pushed to the summit after chatting with them briefly. I smelt something that I had not smelt for many years - coal burning. I saw black smoke when I was close the summit confirming it was coal burning but could not figure out why coal was used on the summit. I reached the summit at 11:50. The elevation was 6288 ft. The distance from the start was 8.94 miles.
Brief Rest on the Summit
I realized what was producing the thick black smoke when I saw the cog railway train standing there almost full of passengers - its coal-fired steam engine. I really wish the engine could be a bit cleaner. I walked around the summit and took some pictures in freezing wind for about 14 minutes, 0.34 miles before I found the entrance to a building that is partially sheltered. I used this place for a break last Christmas when I hiked here. I sat there for about 24 minutes drinking two bottles of 8 fl oz spring water, eating two Power Bars, putting on the extra turtleneck dryLETE long sleeve and a pair of water proof running pants, going out to answer a call of nature. The Power Bars were very hard due to the cold. I should have put them in a inner pocket of my jacket to keep them relatively warm. After finishing two, I put one in a pocket for later use. Two of the guys I met on my way to the summit also came to this only shelter from the howling wind though it was still quite cold.
Descent from the Summit
I started my return at 12:27. I used my Komperdell Carbon Duolock trekking poles for the first time and they are very light and quite helpful. Unfortunately, the locking mechanism of one pole seemed to have gone in only 0.3 miles. It was so cold and windy that I did not want to spend much time standing on the slope to try to fix it. I put it in my backpack and continued my descent with one pole that was adequate. I ran across one more hiker. I did not know that I would never see any more this long hike. I reached the Lakes of the Clouds at 12:50.
Wrong decision based on wrong assumption at the Lakes of the Clouds.
The weather forecast said there would be 50% chance of rain or storm around 13:00. There had already been a few rain drops by the time when I reached the Lakes of the Clouds. I had three options for descent: 1. Crawford path with about 2.5 miles on exposed ridge, 2 miles exposed if taking Edmands Path that leads to an auto road. 2. Ammonoosuc Ravine Trail with only 0.3 miles exposed, ending at the auto road Based Road in 3.1 miles. 3. Dry River Trail with less than 1 mile of exposed or with scrubs. Before I started the hike, I was advised by AMC staff at the Highland Center to get to below tree line as soon as possible in the afternoon because staying on exposed areae is dangerous during a storm. I dislike hiking on an auto road, without thinking too much I decided to take the Dry River Trail. I had the assumption that the Dry River Trail was as well marked as the Crawford Path that never gave me any problem in directions. This tuned out to be a very wrong assumption out of extraordinary ignorance. This path would result in 9.1 miles in total distance for my return hike from the summit to the Highland Center. It would also involve an ascent of about 1000 ft from the Dry River to the Mizpath Spring Hut. I treated this entire hike as a slow marathon.
Poor start and ignoring the warning signs.
The water proof pants were so insulative that I had to take them off because my walking legs were getting too warm. The first quarter of a mile is well marked by cairns. I did not know that those few cairns were the only marks on this trail that I would ever see. In less than a mile, I started to have difficulty following the trail. When I was walking literarily on a brook and beating the scrubs covering it, I seriously doubted whether I went off the trail. I called the front desk of the Highland Center (603-278-4453) at 13:46, elevation of 4700 ft, 0.7 miles from the Lakes of the Clouds. A friendly miss told me the trail is marked and it follows a river. Where I was standing was not a river, but I took her words regarding the marking at their face value. This turned out to be another ignorant assumption. The Dry River Trail is apparently not a well used path. The staff of the Highland Center are fairly young. I do not know if any of them have every hiked the Dry River Trail in its entirety.
First getting lost and continual ignoring the warning signs
I continued on the inconspicuous path for oly 0.3 miles and stopped at a fork-like point - one path going up, the other one going down. The time was 14:15 and the elevation was 4270 ft. With a little hesitation, I took the descending one. I found the trees were getting denser quickly and the trail was disappearing. I descended 183 feet (elevation 4087) and found nowhere to go. I realized that I was lost. I decided to get back to the path that took me there. I switched the Forerunner to map mode and let it guide me. The so called map is just a line showing the trailing path. The trees were so dense that I had to zigzag to find spots where I could open my own path. I also had to cross a dangerous steep brook. I climbed 456 feet back to the trail (elevation 4543 ft). The time was 15:10, 2.3 miles from the Lakes of the Clouds. This almost one-hour long mishap should trigger anyone with common sense to seriously rethink the plan. I should have lost my trust on the marking of the trail. My basic-instinct like desire of venturing and finding out how I got lost left little room for rational thinking. With just a little hesitation, I continued my journey on the essentially unmarked trail and turned a wonderful opportunity of trip adjustment to a point of no return to disaster. In 9 minutes, I reached the fork again and I took the ascending branch. The time was 15:19.
The last segment of pleasant hiking
From the point where I got lost, the trail was easy to follow though it was still unmarked. I could hear the rapid water in a river not far away on my left. I assume that is the Dry River. Obviously the Dry River is not dry at all. I reached Dry River Shelter #3 at 16:29, elevation of 3166 ft, 3.5 miles from the Lakes of the Clouds. I had hiked for about 9 hours by then. I took a break of 12 minutes at the shelter. I was hungary, but I lost so much electrolytes that I did not have much appetite for any sweet food. I still swallow a Power Bar that was kept relatively warm and soft in a pocket of my jacket and drank a bottle of 8 fl oz spring water. . I took an inventory of my backpack which zipper got widely open when I was beating the bush to get back to the trail more than a hour ago. I lost a hiking pole, a camera, water proof pants, possibly one or two bottles of water. I packed more water and Power Bars that I needd so I would not have to jeopardize my trip if I happened to give them out to help other hikers in the wilderness. I should have tied the zipper of my backpack and this was what I did later.
Getting lost in the dark
I resumed my hike at 16:58 and it was getting dark quickly. The trail led me right to the Dry River in 0.5 miles, elevation of 2924 ft. I was stunned and took out my map quickly and realized this route has river crossings. I could not see any trail on the east bank across the river. I was wondering whether I took the correct path at Shelter #3. I remember there seemed to be another path farther from the river. Even now, I am not sure whether it was the right crossing point. According to the White Mountain Guide by AMC that I read later, the crossing point is 0.7 miles from #3 shelter. Since I would need to cross the river back to the west bank later in a few hundred meters in order to take the Dry River Cutoff to reach the Mizpath Spring Hut, I decided to stay on or very close to the river while looking for the signs of trail on the two banks of the reiver. I thought I could not miss both trailsr at the crossing point - one more wrong assumption. After hopping on boulders in the river and beating bushes on the bank for about 10 minutes, 0.1 miles, my Forerunner GPS watch showed low battery sign. To preserver its battery use for critical use, I turned it off. The time was 17:09 and the elevation was 2848. I reached a waterfall in a few minutes. I believe it was Dry River Falls. I thought this could be a good landmark for me to get directions from other people. I took out my mobile phone (at&t 8525, a battery hog) to call the Highland Center, I saw no signal and |the low battery sign showed up. I turned it off to save battery for the last call when there is signal. Later on I found my phone was in flight mode. I do know remember whether the phone was in flight mode at the falls or was switch to the flight mode later by accident or automatically by the phone to save battery. I did not bring my watch because I thought I would use either my mobile phone or Forerunner GPS watch for time. Now both of them are running out of battery. I started using my flashlight soon after departing the falls. My flashlight is actually my favorite bicycle headlight - VistaLite Road Toad. It is bright and efficient with high and low beams. I kept looking for signs of trails on both sides of the river for half an hour or so to no avail. I concluded that I had to accept that I got lost and had to cope with the situation accordingly.
The strategy
The Highland Center is straight to my west. If I kept walking to my west, I would reach it in a few miles. The problem was that it would require open my own path in dense trees to climb 1000 feet up and down in the dark. That was completely out of the question.
Going back to the Lakes of Clouds would require climbing over 2000 feet. The unpredictable wind and late night temperature near the summitcould mean suicide for me with only two thin cotton layers for my legs and three thin layers for my upper body.
The only feasible option is following the river. Rivers nurtured all civilizations and it would lead me to escape the wilderness to civilization today. Five or six miles down the river is Rt. 302. I did not know how deep the river would get and whether it would involve swimming eventually, but this was the only feasible option. The Dry River was my life-line. According to the map, the optimal route would be leaving the river to turn to the west at some point where the ridge comes down significantly.
A journey of fighting fatigue, cold, hunger, darkness...
After 10 hours, 15 tough miles hiking, my legs were already considerably softened. However I could still do jumping on boulders and climbing up and down on the bank to find whichever way is easier to move down the river. Initially I stayed on the east side of the river hoping to see traces of trails because the Dry River Trail is on the east bank of the river for miles. Within a few hours, I completely gave up looking for the trail. I switched to the west bank of the river splitting time between boulders and the tree covered ground initially. The water was getting deeper and deeper, so I spent more and more time on the bank which dense trees make movement difficult. The Dry River is not dry, but fortunately it has quite a few dry branches. Though they are very short, but they gave me breaks from beating trees or maneuvering along the water. On the sloped bank, I was happy whenever I could walk for 20 or more feet without beating trees. I was exhilarated whenever I could walk for a minute or so on a relatively clear ground but only to find it was not linked to any trails.
I knew that my body's glycogen was depleted. My body fat was the primary fuel to keep me moving. Many animals survive the entire winter by consuming body fat. Some birds fly thousands of miles non-stop by just burning fat. Fat has the highest energy density among the three primary nutrients - carbohydrate, protein and fat. Thank goodness that the evolution did not retire this function of fat for Homo Sapiens, or the high power had maintained such function for us. I could feel that the temperature was steadily dropping. Keeping moving was the only way to keep me warm. My feet in soaked shoes gradually lost the sense of cold. This was good because they did not bother me anymore. I was wearing everything I had except a pair of Khakis trousers. I put on my Boston Marathon cap but it was lost very soon. My brain, reflex were slowed down significantly and senses were somewhat numbed. I lost the only hiking pole and did not realize that I was not using a hiking pole until many minutes later.
I drank the last bottle of water and ate another Power Bar early evening. When I was very thirsty, I filled the empty bottles with running water in a brook. The water tastes very good. I learned later that the presence of cysts of the intestinal parasite Giardia lamblia is thought to be common in White Mountains. Even if I had known it, I would have taken it anyway for survival. Getting lost in a forested mountain is certainly much better than a desert where dehydration could bring down a person quickly.
I turned on my Forerunner GPS watch periodically to check time, but it was so brief that it did not establish the link to the satellites. After 22:00, the combination of fatigue and biological clock was driving me extremely drowsy. At a point, I felt my eyes could close at any time while walking. I did not want to let this happen to potentially cause me to slip into the river. I found a little space under a big boulder, put on the pair of Khaki trousers and used my backpack as the pillow. I fell asleep immediately. It must have been minutes later when I was waken up by the cold. I could have had the most desirable sleep in my life if I had had a blanket. My body did not want me to get up to resume the journey, but fortunately my mind was still partially working and telling me that hypothermia could take my life. I had no choice but keeping moving. I never thought before that I would ever depend on my endurance to keep my body warm. Before this my endurance gave my all kinds heat related troubles when running marathons in sizzling weather such as the 1999 Vermont City Marathon with temperature shooting up to 90's and 2004 Boston Marathon sending over a hundred people to hospitals for emergency treatment of heat related illness.
The batteries of the flashlight ran out around midnight. The backup batteries were fortunately in a pocket so they did not get lost with other items. I replaced the batteries. It started drizzling and made movement even less pleasant, but it did not slow my pace which is very slow anyway, one step at a time. My eyes started closing again. It took me a while to find a boulder that can shelter half of my body from the rain. I lay down and fell asleep immediately again. I was waken up by the cold as expected.. I do not know how long I slept. Considering the low temperature, it was probably no more than 15 minutes.
Both of my calves started to have cramps whenever I try to kneel down in the normal way that requires extending them. I remember I had this problem soon after passing the Heartbreak Hill in Newton at a Boston Marathon. I knew my electrolyte balance was severely impaired. Probably I lost too much potassium. If I needed to get down, I had to do it in a very awkward way. Fortunately, I did not need to do it often.
I stumbled on a trail and was very excited. I saw a cairn on a river bed. I took a look at the map and the only possible trail in that area on the west bank of the Dry River is the Mount Clinton Trail. It comes from Mizpath Spring Hut, which is about 1800 feet above, and joins the Dry River Trail. I stood at the cairn for a while to look for another cairn or any sign of trail on both banks of the river, but could find none. Most likely the cairn is at the spot of river crossing. I did not want to wade the cold water to risk again finding nothing after extensive and exhausting search . My excitement vanished quickly and I resumed my journey on the bank.
Though I had fatigue, hunger, cold, but I did not have the most fearful thing that is fear. The possibility of death only crossed my mind a few times and was disputed immediately because I had the river as my life-line and I had the confidence on my endurance thanks to my running since I was 10.
The final move
Around 3:30 (Daylight Saving Time) Sunday, November 4, on a steep slope, I was so tired that I sad down with my back on a tree and fell asleep for the thrd time with my flashlight in my left hand. When I was waken up by the cold again. , I could not find my flashlight. It was pitch dark. The only light sources are my mobile phone and Forerunner GPS watch. I turned on my mobile phone and found it was in flight mode. I turned off the flight mode and seconds later it was out of battery. I turned on my GPS watch for almost 10 minutes to provide its dim light for searching for the flashlight, but to no avail. I did not realize until two days later that these few minutes of having the watch on provided the precious information about the location where I made my final move.
After failing to find the flashlight, I was shivering with cold. It was so dark that I could not resume my journey, but I had to keep stepping on a patch of ground less than 10 square feet to prevent me from being frozen. Judging from the shoe strings stiffened by solid ice, the temperature must have been around freezing point. The time was 3:55. I was waiting for the sunrise more anxiously than ever.
Suddenly, something like miracle happened - the world got much brighter. The moon came out! The timing could hardly any better. This happened without a single prayer. Under moonlight, my dark-adapted scotopic vision could see the nearby ground easily and shadows of trees far away. Quickly I decided to move again.
The Highland Center is to my northwest and the Dry River goes south. For every step down south along the river, I would have to add one more step up north after reaching Rt. 302. It had been more than 11 hours since I reached Shelter #3, and a few hours since I crossed a trail that is most likely Mount Clinton Trail. I had certainly passed all the peaks of the ridge to my west. I decided to depart the Dry River and head west. The optimal route should not be straight up the mountain, rather a diagonal line (i.e. southwestward); so did I move. The time was 4:16.
I found the moonlight was much better than flashlight because I can easily spot patches of clear ground or sparse trees. I kept looking for bright spots in the southwest quadrant. The brighter or the bigger, the better. I did not need directions because the profile of the mountain gave me a very good sense about where I was moving. The North Starin the clear sky gave me extra confidence. I always enjoy seeing the Big Dipper consisting of 7 stars that is so easy to spot on any clear day. It gave me special comfort during this tough journey. To my surprise, the east started to get slightly bright in an hour or so, long before the sunrise at 7:20 (Daylight Saving Time). I could see the slightly bright edge of the ridge on the other side of the Dry River. This provided me another extra confirmation of my direction. The trees are so tall and dense that I could never see the highest point to my west. They were deceiving to me at the beginning. I thought the peak was a few hundred feet away at the end of the trees that I could see, but when I got closer more trees showed up on the far end. I gave up looking for the peak and just maintained my southwest direction.
In about two and a half hours, I reached an area that was relatively flat and quite pretty with colorful fall leaves on the ground. More than once, I thought I saw a car in the dawn light but only to find they were the root end of big trees pulled down probably by wind. Soon I realized that I finally reached the end of the ridge and my ascent was completed. I did not know how high I had climbed. According to the map that I read later, I probably ascended from 1700 ft to 2300 ft. I reached the other side (west) of the ridge in minutes. I took out my binoculars and looked to the west and believed there was an auto road. I also believed I saw a wide river with green water and I assumed it was the Saco River that I would need to cross. I thought I heard roaring water from the river. All of these turned out to be some visual or auditory illusions. I thought I heard heavy trucks but could not see them on the auto-road.
I started descent with somewhat relief. I continued to take a diagonal direction - northwest - that I believe is optimal. The west side of the ridge is much steeper than its east side. For the first few hundred feet, it was like a series of cliffs. Fortunately it is covered with trees. I relied on small trees that I grab to counteract the gravity that was dragging me down at high speed. I was almost completely numb to cuts and bruises that I had already had plenty of by that time. Because I was exhausted, descent, helped by the gravity, was much easier than ascent. I realized in not long the early perceived roaring water was actually howling wind. I thought I descended well below the auto road that I saw early but I did not see the river. I just assumed the Saco River is well below Rt. 302. This was a bit discouraging thinking that I would need a lot of climbing to reach Rt. 302 after reaching the river. I crossed a brook that is from Mount Webster as shown on the map.
Soon I reached a large area that is almost flat and very pleasant to walk through. I believed that I reached the valley but I saw neither Rt. 302 nor the Saco River. My heart was at the brink of sinking when the thought that I made a totally wrong judgment and got me into a deeper wilderness crossed my mind, but I disputed the idea quickly. The map shows clearly that I had nowhere to go but reaching the river and Rt. 302 by headingd west. My direction was confirmed by the stars and by the sun. In a few minutes, I suddenly saw a high way through the trees, then I saw a river by the road that was much shallower and narrower than I expected. This is exactly what I anticipated. I was exhilarated. I walked along the river for a hundred feet or so and found there was no way I could cross it by boulder hopping, so I waded through the water. When I tied my loose shoe strings I found they were still icy stiff.
I reached Rt. 302 at a spot about 1/4 miles south of Webster-cliff Trail that is a part of the Appalachian Trail. The elevation was about 1200 ft. The time was 8:16 (Daylight Saving Time), exactly 4 hocus after my final move started. I was very tired and decided to hitch a ride, the second time in my life, 26 years from the first time I did it. I knew I was not good at it. I kept walking while pointing my left thumb up. I did not face the coming vehicles. After four or five cars completely ignored me, I gave up and decided to hike the last four miles and ascend 700 ft without any help. The unexpected howling headwind hurt me more than anything else. After walking for a mile, I turned on the Forerunner GPS watch and let it run till the battery would die. I noticed my pace was not too bad - 15 to 20 minutes/mile against the headwind that felt like well over 20 mph. The toughest stretch was the 1.5 miles ascent from 1300 ft to 1900 ft with double lanes for north bound vehicles of which one is for slower ones. I only knew later that the average wind at the summit for that day was 50.5 mph and the peak was 102 mph. I could not find any weather data for the Crawford Notch.
Returning to the base
I reached the Highland Center at 9:36. I asked the front desk whether I could still have a breakfast, and the answer was yes. I did not realize until the afternoon that the Daylight Saving Time was over at 2:00 that morning, so my arrival time was 8:36 and it was not terribly late for breakfast. I immediately filled my tray with food anticipating large intake to refuel my empty energy storage. However, my electrolyte balance was so severely impaired that I did not have much appetite for the normal breakfast. I was craving for salty and spicy liquid. Hot&Sour soup would be perfect, but I could not find any. I could force myself to eat only half of the food I put on the tray that was the amount that I ate the day before. I had to apologize to the kitchen staff for the unfinished food.
The staff of the Highland Center did not know that I failed to return on Saturday night. Alexa, the friendly and enthusiastic hiking guide, came to my breakfast table to have a brief chat probably before her heading out to guide another hike. I suggested her avoid recommending the Dry River Trail to any hiker unless he is familiar with it or guided by experienced hikers..
After the breakfast, I decided that I had to extend my stay at the Highland Center because it would be too dangerous for me to drive back home as planned while muscle cramps could happen at any moment. I had a shower and went to sleep immediately in the Eisenhower room.
My whole journey lasted 26 hours 10 minutes. The total distance is at least 27 miles, maybe much more. The Forerunner GPS watch records 25.46 miles. It uses two straight lines to connect the poiint where I turned it off for the first time (17:09 Saturday), the point where I turned it on briefly (3:50 Sunday) to look for my flashlight and the point where I turned bit back on on Rt. 302 (8:39 Sunday). These two straight lines are counted for only 6 miles. I believe I hiked much more than 6 miles in the span of 13.5 hours. I believe for that segment, I hiked at least 6.5 miles in a little more than 13 hours before reaching Rt. 302, then one more mile on Rt. 302. Therefore 27 miles should be a very onservative estimate of the total distance.
Recovery
I woke up at 17:00 (Daylight Saving Time) and realized that the Daylight Saving Time had been over and the clock was supposed to turn back an hour. I got up with very stiff legs. When I was going downstairs, I fully felt the damage of the 27-mile hiking. It hurt so much that I had to going down backward to reduce the stress on the supporting leg's calf. Both of my legs had dozens of cuts, scratch and bruises. The lower part of my left leg was swollen and looked like red meat. I do not remember how and when it was hurt so badly. The toes and the inside part of my left foot were black. My wrists also had quite a few cuts. My neck had a half foot long scratch. Apparently the gloves protected my hands from a lot of abuse. I decided not to post a picture of my badly abused lower limbs because it may gross out some people judging from the expression of some people who saw the lower part of my legs.
At the dinner, I sat with four very nice writers who were attending an anthology meeting including the organizer, John R. Harris, director of Monadnock Institute, and had a very pleasant conversation with them. I finally found what I craved for - flavorful soup. I drank at least three bowls of it. Anyway, I drank until the waitress showed hesitation to offer more for whatever reason. I felt I could have doubled it if I had been offered. I ate a lot of a broccoli dish that was the most salty one. I still did not want to eat anything sweet so I skipped the dessert. I finished my dinner with a cup of tea.
I watched the beautiful movie Winged Migration while reading AMC's White Mountain Guide which has the following passages related the Dry River Trail: "This trail in general is somewhat rougher than most similar valley trails elsewhere in the White Mountains. ... This trail is almost entirely within the Presidential Range - Dry River Wilderness"; "Trails in officially designated wilderness areas, by policy, are managed to provide a more primitive experience. As a result, they are maintained to a lesser degree, are sparsely marked, and have few signs. Hikers entering wilderness must be prepared to make a greater effort to follow their chosen route." I wish I had read this before my hike. I drank a bottle of POWERade just for its lectrolytes before I went to bed.
On Monday (2007-11-05) morning, I got up at 5:00. I had my normal full-tray breakfast showing my appetite was back to normal. I purchased a set of the Centennial Edition of White Mountain Guide and an AMC cap to replace my lost Boston Marathon one, then headed back to work.
I limped for another day or two before I regained my normal gait.To accommodate the swollen left foot, I wore only my wide size Rockport Prowalker for two weeks. To gauge my the recovery cautiously, I went out for a 1.35 miles fast walk on November 15, 3.5 miles fast walk on November 17 and felt my left foot could handle it though it was still a little swollen. I ventured a 3 mile run on November 18. I ran 5.7 miles on November 20, 6.61 miles on November 22. Finally I ran 10.5 miles in the morning of November 24, then walked a mile on the Crane Beach to see the impact of the run and felt only very slight discomfort at my left ankle. I concluded that my legs were back to normal for handling regular physical exercise. I still felt dull pain when the back of the left foot was pressed by a fingure and the left ankle was still noticeably thicker than the right one.
(I will update this when my left foot completely recovers)
Epilogue
I do not think this disastrous venture has taught me any unheard new lessons, but it has certainly drastically enhanced some . Besides good preparation, heeding warning signs, assuming conservatively, the most important lesson that has been enhanced is that there must be a sensible plan B for any point of risky plan A. When I decided to take the Dry River Trail at the Lakes of the Clouds, I did not give the slightest thought about what if I got lost or severely injured 4 miles down the trail in the dark. If I had ...
My diesire to go back to conqure the Dry River Trail that beat me badly grew quickly. I thought about going back first to find some my lost items. The trails in the White Mountains are maitained very well. I did not see any trace of litter. Losing so many items in the mountain made me feel guilty. Some items lost on the bank of the Dry River are impossible to find because I do not even know where they got lost. However those items lost when my GPS watch was on have some chance to be found.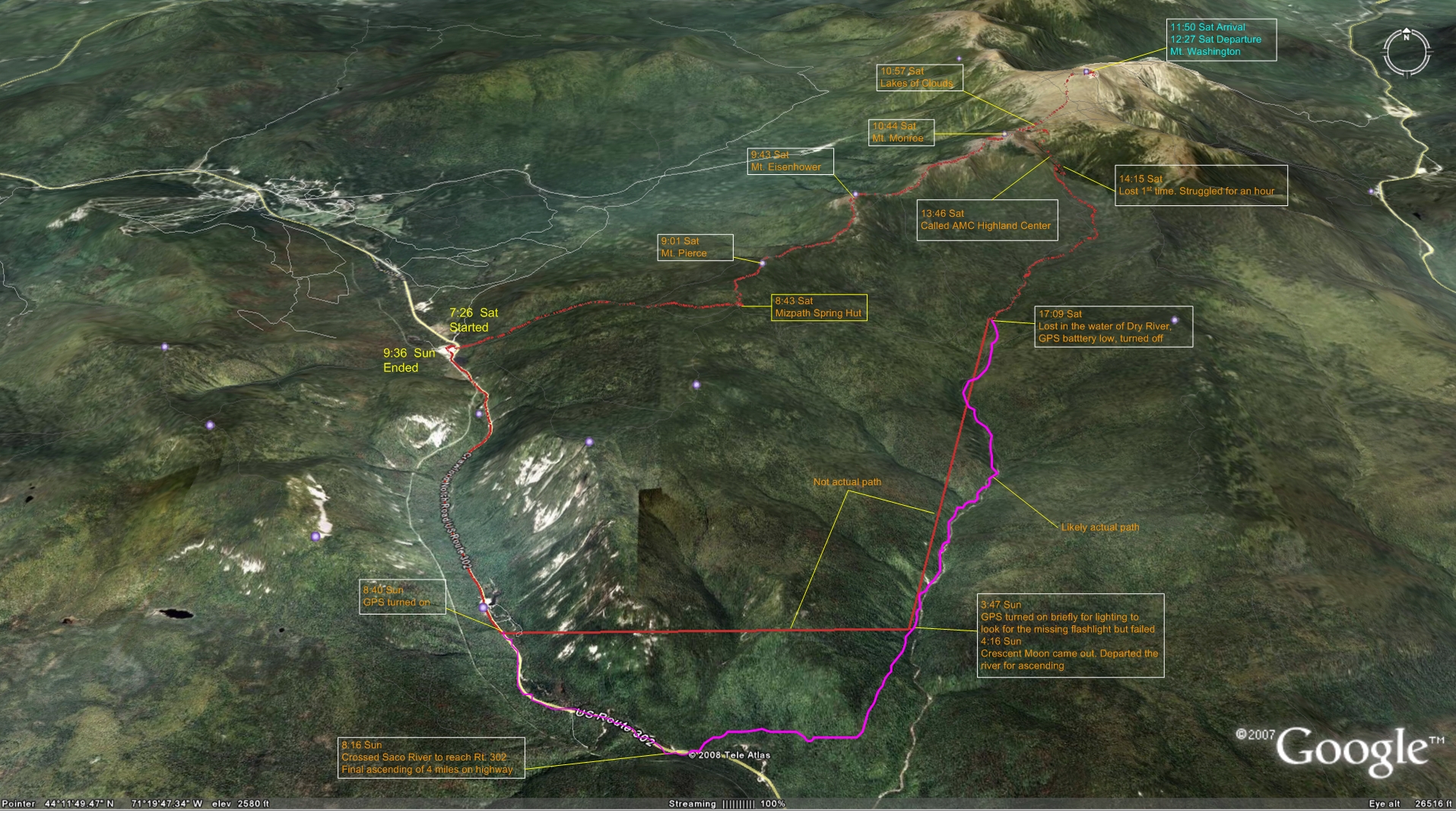 Figure 1. Hiking Path. The blue line is from Forerunner 205 GPS Watch. The cyan line is the estimated path for the segment where GPS was turned off. The time stamp is Daylight Saving Time that actually ended at 2:00 on the Sunday.
Figure 2. The spot where I got lost
Weather data for Mount Washington Summit :
(The weather of the Dry River Wilderness is much milder - weaker winder, higher temperature. Unfortunately I cannot find any weather data for it).
Sunday, November 4, 2007
5:04 AM
Conditions at 5:04 AM
Weather: Freezing Fog
Temperature: 12°F
Wind: NW at 74 mph
Visibility: 1/8 miles
Relative Humidity: 100%
Station Pressue: 23.34" and Rising Rapidly
Ground Conditions: Icy
24 Hour Statistics
Maximum Temperature: 36°F
Minimum Temperature: 21°F
Peak Wind Gust: NW at 96 mph
Average Wind Speed: 35.6 mph
Liquid Precipitation: .02"
Snowfall: None
Almanac Data
Record High: 52°F (1982)
Record Low: 0°F (1933, 1989)
Average Daily Temperature: 24°F
Average Monthly Melted Precipitation: 10.49
Average Monthly Snowfall: 40.80
Total Snowfall So Far This Month: .6"
Average Monthly Winds: 40.5
Sunrise: 06:20