This is a report of hike in the Pemigewasset Wilderness in the White Mountains of New Hampshire, USA.
This is a report of hike in the Pemigewasset Wilderness in the White Mountains of New Hampshire, USA.
Date: 2008-06-14
Total distance: 31.3 km
Total Time: 11 hours 50 minutes
Start elevation: 415 m
Total Ascent: 2084 m (by GPS, likely overestimated)
Total Descent: 2283 m (by GPS, likely overestimated)
Peaks: North Twin (1451 m), South Twin (1494 m), West Bond(1384 m), Bond ( 1432 m), Bondcliff (1300 m)
The following is a picture from Google Earth that does not reflect the weather condition of the hike. More pictures are at Google Photos.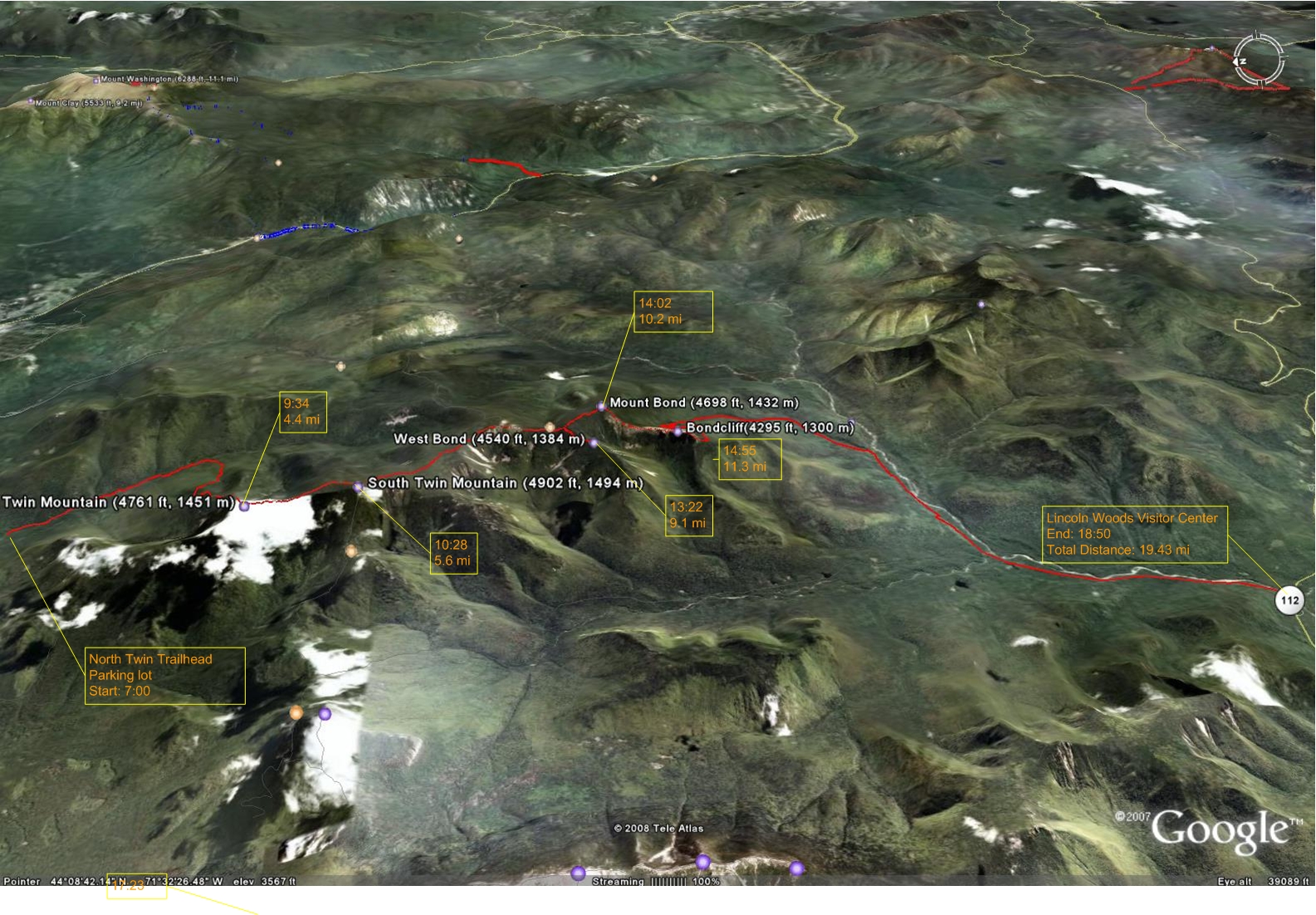 Prologue
I finally got on the AMC's 2008 Solstice Day Presidential Traverse hike group on June 7 when someone canceled. I was thrilled. On June 8, Joe, the leader of this hike, asked the group whether we would be interested in a 20-mile training hike to traverse the Twins and Bonds. I was so swamped by various things that I waited till June 12 to let him know that I was interested in it and it turned out I was the only one joining him at the hike.
I packed everything in the morning of Friday June 13. We had KFC lunch series on that day. I have been organizing this for years. Someone signed up but did not come so I had to take his share for my supper. I had much more fried chicken than I wish. I took off from work to head to Joe's house in West Campton of New Hampshire. After I realized that I forgot to bring a hat with me and the compass that fell off from one of my hiking poles needed glue, I stopped by Staples, Home Goods in Danvers, then T.J. Max in Andover to get the glue and a cap. In a liquor store of a rest area on Rt. 93, I finally found Columbia Crest, the #1 Merlot ranked by the Consumer Reports (Later I found the #1 is another year's Merlot of Columbia Crest), so I bought two bottles as gifts for friends because I do not drink alcohol. I told Joe that I would arrive at his house around 21:00, but it already passed the time when I stopped at another rest area in West Canterbury. I tried to send him a short message but the message was rejected meaning the phone number is probably not a cell phone number. I emailed him from my mobile phone telling him that I was coming late. I ate about a quarter of a big water melon os I was very well hydrated. When I was approaching his house, I found a car was following me and it turned our to be Joe who went to a Wal-Mart to get some water. It was about 22:00. After some brief chat we went to bed.
I slept in my sleeping bag. I rarely have good sleep in it mainly because the bag is too warm. We got up at 4:40. I ate a bagel with honey and toasted one for snack on the trail. We stopped at a Dunkin' Donuts. Joe had his breakfast and bought his lunch and food for his dogs. I had a bagel omelet. We spotted Joe's wagon at Lincoln Woods parking lot, then we drove my car to the trailhead of North Twin Trail via Rt. 112, Rt 93, Rt. 3, Haystack Rd. (FR304).
The Journey
The hike started at 7:00. Only a few cars were at the trailhead parking lot and we saw a couple was just pulling in. The two dogs, Pork Chop and Paprika, seemed to be quite excited. They led the hike and ran to bushes and brooks frequently. They cover probably 20% to 30% more distance than their homo sapiens hikers who stay on the trails. Later, they stayed on the trail much more when tired. It was quite warm. Soon Joe started sweating quite heavily. It was essentially windless making it feel even warmer. The worst part of still air is the bug. Small bugs started swarming around us. Fortunately they do not bite. Black flies also came out, not in large numbers, but they bite. We reached the summit of North Twin at 9:34. After a brief rest and hydration, we headed down the North Twin Spur for South Twin which we reached at 10:28. Now, we were on the Twinway which is a part of Appalachian Trail. We saw hikers for the first time when we were approaching Guyot.
We met a group of students from a mountain school at Guyot, then the couple we saw at the trailhead. It was about 12:00, my regular lunch time. I ate the bagel with the three packets of honey that I got from the KFC lunch the day before. It worked out quite well. I tried a PowerBar with Pork Chop and found he liked it, then, to be fair, I gave one to Paprika. Then we headed down the Bondcliff Trail. Out of curiosity, we took the branch trail to the Guyot Campsite where Joe got some water for backup. The campsite is 0.3 miles off and , 200 feet down from the main trail. We saw two backpacks hanging on a tree at the junction of the trail leading to West Bond. Apparently two hikers were ahead of us to West Bond. Since we would need to back track to the Bondcliff Trail, Joe dropped his backpack on the side of the trail but much closer to the summit which we reached at 13:22. The clouds had increased, but the views were still spectacular. After a very brief break, we headed down to the main trail and then up to Mt. Bond which we reached at 14:02. The clouds were getting thicker so the sky was getting dark. We anticipated there would be showers so we had a very short break before heading for Bondclif which we reached at 14:55. The trail between Bond and Bondcliff was the only section of this hike that was exposed extensively. I can imagine this section, which is in the middle of a funnel, can be very dangerous in winter. The cliff is quite pretty. We took our last break to refuel and hydrate. I ate a bag of chips that gave me quite some salt that I needed. I shared some chips with the our canine friends.
We quickly descended below the treeline and did not need to worry about lightning anymore. We reached the Wilderness Trail at about 17:00. The trail is wide enough even for automobiles. It used to be a logging rail. The bolts and wood ties can still be seen decades after the cease of usage. Mosquitoes started attacking me. We met a group AMC hikers at the bridge that joins the Wilderness Trail with the Lincoln Woods Trail. They were finishing their Owl's Head Loop hike which is about 20 miles long. We sped up out pace on the very flat Lincoln Woods Trail. The mosquitoes attack was getting fiercer and fiercer. I got quite some bites at my wrists and neck. I was wearing pants and a long sleeve T-shirt. Joe had run out water. I gave him the last bottle of water I had with me. I felt quite all right probably because I did not sweat nearly as much as Joe did. We reached the parking lot at 18:50. It was still very bright. I asked an AMC hiker to take a picture of me with the legendary Joe.
Epilogue
To his surprise, Joe found the visitor center was closed. We stopped by a McDonald where Joe got some drink and food, then we headed back to Haystack Road to pick up my car. I noticed that my car was running out gas. I went to the gas station off Rt. 93 that I used in February when hiking Lafayette, but it was closed. I had to pump a few gallons near the McDonald which we stopped by earlier and paid the highest price that I had ever seen in my life - $4.29 (later I found that gas station has the highest price in New Hampshire). I stopped by Joe's vacation house at West Campton to pick up my luggage. I stopped by a gas station in Concord per Joe's tip and paid only $3.96/gallon. I had a fish burger at Burger King by the gas station. I felt a bit sleepy and stopped at a rest area soon after getting out Concord. I decided to have a nap but when I woke up it was past midnight. I got home at 14;00.
On Sunday morning, I felt quite good. I could have jogged if it had not been raining. However, it seemed the long hike had some impact on my mind. When organizing my suitcase, I remembered clearly that I saw my Boston Marathon T-shirt in it but could not find it a few minutes later. I asked Joe to look at for it at his house and he found it and brought it to me at the Presidential Traverse hike a week later .I went to Boston and left my car idling on Tremont Street for three hours.
This hike strengthened my confidence on my ability to do the Presidential Traverse and gave me a good idea about how much water I would need for a long hike on a warm day - 3 liters.