108th Boston Marathon (2004-4-19)
Hectic 2003
Year 2002 was a low point of my running, but year 2003 was even lower. Soon after a so-so performance at Boston Marathon 2003, I found that I had no choice but moving out of the rustic apartment that I enjoyed living for more than five years and formed a very good relationship with my neighbor. In the process of looking for another apartment to rent, I found renting a home in the Greater Boston area is at least 20% more expensive than owning one . After debating in my mind seriously, I decided to sacrifice the freedom of renting to save money by owning a home. Within a week, I found one and signed the purchase and sale agreement with the owners, a couple of physician and nurse whom I found it was a pleasure to deal with. In the process of applying for mortgage, I had a trip to Beijing and Chengdu (my hometown in China) with packed schedules. I managed to have quite a few runs in the torching summer of July. In August I finally moved to my new home in Ipswich. In the mean time, my family (parents, sister) had our first reunion in US. Accompanying them to tour New England was a lot of fun. All of these things hurt my running. Even worse, just at about the end of our family reunion, I had the very tricky iliopsoas tendonitis. Iliopsoas is deep in the groin and no massage can reach it. The only way to heal it is resting and letting the body run its own injury healing course.
Training
My running did not get back to a fairly normal level until Christmas time when I did four long runs in 10 days and gained some confidence on my core endurance, but I still could not do high intensity workout such as speed workout because the iliopsoas tendonitis was not completely healed until late February. The 2003-2004 winter turned out to be the coldest winter that I have ever experienced in my life. The water pipes at my home were frozen a dozen times or so (thank goodness, they did not burst). The temperature dropped to -21°C. Very often, the road condition was so bad that there was not much sense to run and I could not afford the time to work out in a health club any more. My weekly mileage was fluctuating between 10s and 90s. I knew that I would not be able to prime my body adequately for a good performance at the 108th Boston Marathon, so I decided in February that I would use the Boston as a hard training long run and seek a marathon in late May to run my heart out. Fortunately, one of my favorite marathons - Vermont City Marathon (VCM) pioneered (I had not seen this anywhere else) the policy to allow official bib number transfer and set up a forum on their Web site to ease the transfer process. I got a number from a runner in Virginia who was injured and had to pull out. VCM is on 5/30/2004, the memory weekend.
Final Preparation
I did my last long run of 21.75 miles on April 8 in 7:36/mile pace and felt reasonable comfort. On April 4, 8 days before the Boston, I ran the more than three decades old weekly race - Fresh Pond 5 Mile in Cambridge and placed second in 29:42. Its results were posted on the Sunday Boston Globe. This pace projects a marathon time close to 3 hours. The last serious workout was a half-marathon distance run with a pace of 6:50 after the first two miles of warm-up on April 14, 5 days before the marathon. I jogged 6.6, 2.9, 2 and 0 miles in the following four days.
I had a haircut on Saturday (4/17) morning to prepare for the predicted hot weather, then headed to the expo at the World Trade Center to pick up my bib number. I learnt from my past experience that picking up the race packet early has the advantage of getting a T-shirt of the desirable size, instead of L or XL that are usually the only sizes left toward the end of packet picking up period. My knee was hurt somehow, but I do not remember exactly what happened because I thought it was no big deal. However, after the tour at the expo purchasing a bunch of merchandise (BM2003 jacket, polo, BM2004 DVD, etc.), I felt the pain at my right knee when climbing the stairs of subway stations. Upon getting home, I immediately put on a Musk bone-strengthening plaster that my mother left for me after the family reunion hoping the injury is acute and the plaster plus resting would take care of it. I could see the slight swelling.
I kept taking drinks made with powder purchased at the expo. Judging from the clearness of my urine, I was adequately hydrated.
On Sunday, I entertained my friend Peter and his son at Kowloon, a Chinese restaurant on Rt.1, with pretty greasy food. I did not care about the food that much because the hot weather made me even more determined to run this year's Boston conservatively. I went to bed at about 22:00 on Sunday night and had a sound sleep.
My kind neighbor and friend Dru offered a ride, but I declined gratefully because going into Boston was not a problem at all and I do not want to bother anyone early morning. Driving back after the race may not be very pleasant, but marathon is so unpredictable and I could not bear worrying about someone waiting for me at the finish line if I suffered on the course and my time was way off the predicted.
Pre-race events on the race day
I got up at 4:30. Since I would put out a conservative effort at the race, I just ate my regular breakfast without the protein component - oat meal, multi-grain bread, pickles. I started out for Boston at 7:10. I stopped by Shaws supermarket to get a loaf of Italian bread fresh from oven and some bananas after filling the nearly empty gas tank of my car. As usual, I went to Memorial Drive near MIT to park my car. I found that parking was prohibited on the Charles river side due to some construction and a policeman was issuing tickets to a few cars parked there. Luckily, I found a spot on the MIT side near the science library. I took the red line subway and got off at Park Street right at the end of a waiting line for the marathon shuttle bus. It was 8:20. I saw the last group of buses loading runners, but there were still hundreds of runners waiting there. I had no doubt that we would be taken care of the race organizer. I patiently waited at the Boston Common doing the pre-race rituals of hydrating, carbo-loading, resting, stretching. By 9:25, I had gone to portable toilets three times, finished half a loaf of Italian bread, one bottle of Gatorade, one bottle of Poland spring water and half a bag if pickles. A bus came at 9:40 and took away a load of runners. I became anxious after 10:00 because the trip to the start line may take up to an hour. The officials told me they were actively communicating with the headquarters. Some runners tried to high jack a group of passing-by school buses without success.
The last three buses dispatched by MBTA after receiving SOS from the race officials finally arrived and took all the left runners at 10:50. I took the very last bus and it fell behind other buses of the last group further and further after getting on Rt. 90 because it was on natural gas. At about 6 miles or so from Hopkinton where the start line is, we passed by a bus of that group that stopped on the emergency lane. Some people in our bus suggested to go back to rescue them and believed that the race would be delayed for us. Delaying the most prestigious marathon with 20,000 participants for one or two bus loads of runners is apparently a fantasy. It would make much more sense to call in an empty bus to take all the runners of that bus than to use our bus to go back on a major high way to squeeze half of those runners into our bus. We had a chance to get to the start line just on time. If we had gone back, we would be way late. According to the instructions of the race, these late bus riders are supposed to be fast runners. If they started after the other runners, most of them would have to pass at least 15,000 slower runners before reaching the finish line which is bad for both of them and slower runners they would jump around to pass. However I did not have the courage to voice my objection to the noble but senseless suggestion. The driver said that the stopped bus was not asking for help (they had radio communication), so he assumed they did not need us to go back to save them.
Our bus arrived at Hopkinton at about 11:45 and dropped us in downtown instead of the athlete village probably because the pre-race rituals had already started. I sprinted to the baggage bus awkwardly carrying my relatively heavy bag, then put on some sunscreen and sprinted to my corral - #3 without the opportunity to answer the call of nature (I abstained from fertilizing any trees without permission). The whole trip looks like about one mile. When I arrived at my corral, the corrals were already merged, so I was in the middle of runners mainly from #4 corral (the higher the number, the slower the runners).
The race
The race started at 12:00, a few minutes after I sprinted to my corral. The temperature was 28°C. The start was quite smooth. It took me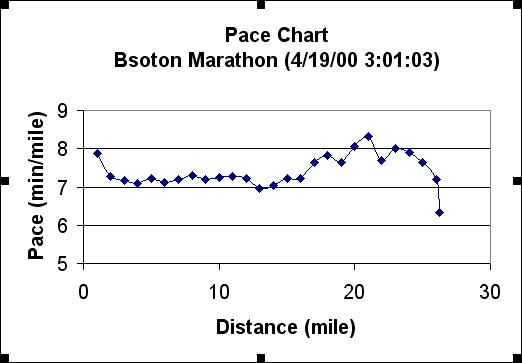 only 1:49 to cross the start line. I believe I started with at least three thousand people in front of me.
The call of nature was strong and I felt thirsty within minutes after the start. Fortunately, I saw a runner coming out of portable toilet around mile 1 and grabbed the opportunity immediately. There was no water station until about mile 2.5. The first 2.5 miles felt very long because of my longing for water.
My strategy was running the race conservatively judging by my comfort level, trying to hydrate myself and minimize the electrolyte imbalance by taking sports drink that is gatorade, and taking every opportunity to cool myself. I drank gatorade at every water station (there are one or two stations every mile) and grab a cup of plain water for shower. I usually poured the water over my head. Unfortunately the water from the water stations was quite warm, but fortunately, many lovely kids along the course were handing out enthusiastically very cool water in small cups. They were very helpful. I felt instantly better after showing myself with a cup of cool water. I also grabbed ice a few times and stuffed into my singlet. I ran through the spraying of a dozen water hoses. I wish there had been more.
As always, I greeted the volunteers from my former running club - North Shore Striders at mile 12. Mile 13 was the fastest mile (the only sub-7 mile) due to the adrenaline rush created by the deafening screaming of Wellesley girls.
I reached the half point in 1:34:54. I was not worried about the time at all. I was concentrating on survival with dignified form.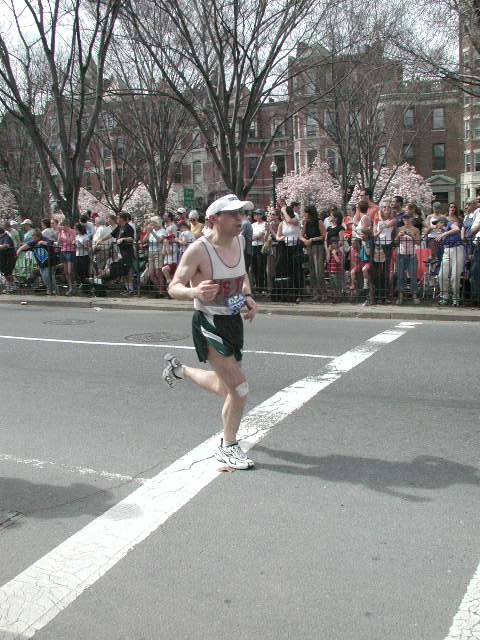 The last mile on Commonwealth Avenue where I accelerated because I was finally free of fear
Courtesy of Jim Rhoades
It is weird that whenever I crash at a marathon, the turning point is always around mile 18. I started struggling around mile 18 again this time and I thought the familiar death march would start soon. To my surprise, I regained some strength after the Heart Break and was able to manage sub-8 pace instead of my typical death march pace of 9-10s. I almost felt like that I had a so called "second wind" after mile 23 - I was speeding up after having tough time for six or seven miles. However I have suffered enough from crashes at previous marathons, so I never got over-excited. I kept focusing on survival until Kenmore square - one mile from the finish - where I finally was free from the fear of crash and accelerated to 7:10 pace for mile 26. When I got on Boylston Street, I was even bolder - I started sprinting and reached 6:20 pace for the last 0.22 miles by squeezing out all the gas left in me.
Post Race
I staggered after passing the finish line and it immediately caught the attention of a volunteer who came to ski me whether I need help, but I could hold myself and got some drink, food and the insulation sheet. I exchanged the Champion chip for a medal that I earned. I was so exhausted that I had to sit down for a few minutes. After I got my bag, I had to sit down again. Going down the stairs of a subway station turned out to be a difficult task due to the pain of my beaten up quads. The subway was so crowded that I had to wait for a while before squeezing into a car. After one transfer, I got off at MIT and limped to my car that was half a mile away and had a nap immediately.
I went to a Indian restaurant after the nap of about 1 hour and found I was still so nauseous that I did not have any appetite. Without much hesitation, I abandoned my original plan of going to the post-race party for the first time, and drove home directly.
It was 18:00 when I arrived at my parking lot where I met my neighbor John and chatted with him for a few words and then got in my home, made a call to Dru to report my race briefly. She brought me ginger ale when she heard that I was nauseous. I drank one can of them. I had my first post-race meal at 20:00. A reporter of the major local newspaper Salem Evening News interviewed me briefly.
I made a mistake by not going to bed until almost midnight. The next day, I felt so drowsy whenever I did something needing my brain to work intensively that I had go home for more rest in the afternoon.
I did not run at all until Thursday morning when I ran 2.1 miles followed by 4.5. 6.5 on Friday and Saturday respectively. I felt almost completely recovered on Sunday when I won 21st Annual Bonnell Bunny Hop 8K in Winchester on Sunday in a time of 29:32. It was a very well organized race. I met the nice race director Bruce Bonnell at the Fresh Pond 5 mile race. He was so nice that he called me the next day to congratulate me and apologized for not having much time to chat with me at the race. I plan to go back to the race next year.
I received MyMarathonDVD on June 7. I have mixed feeling about it. This DVD costs $49.99. Most of its contents are general scenes of the marathon. I have taped the three-hour long marathon programs of Channel 4 & 5 that are certainly better than the 20 minutes video of the CD. There are 7 short pieces with me in them, but they are very brief (a few seconds each) and I am blocked by other runners most of the time. They are cut from videos taken by cameras with fixed positions. The idea of this DVD is good, but it could be improved significantly by using more cameras and moving cameras. This is good for fast runners or very tall runners who are less blocked than slow or short runners. Even for me, a top 6% runner, it is still poor. If I can get into top 3%, my images in the video would be much improved.
Appendix
Mile and the last .22 mile lapses:
752 716 710 706 713 707 711 718 712 715 716 713 657 702 713 714 739 749 739 803 819 742 800 754 738 711 123(620/m)
Bib

Name

Age

M/F

City

State

Country

Ctz

*

3696

Zhang, Hong

39

M

Ipswich

MA

USA

CHN

Checkpoints

5k

10k

15k

20k

Half

25k

30k

35k

40k

0:23:04

0:45:22

1:07:45

1:30:23

1:34:54

1:52:20

2:16:00

2:40:48

3:05:12

Finish

Pace

Projected Time

Official Time

Net Time

Overall

Gender

Division

0:07:26

<![if !supportEmptyParas]> <![endif]>

3:16:41

3:14:52

932

871

617
(courtesy of BAA)
Race Statistics

Category

Number
Entered

Number
Started

Number
Finished

Percent
Finished

---

Runners

all

20344

17926

16733

93.3%

male

12647

11279

10496

93.1%

female

7697

6647

6237

93.8%

---

Wheelchairs

all

53

45

43

95.6%

male

44

36

35

97.2%

female

9

9

8

88.9%

---

Handcycles

all

7

7

7

100.0%

male

5

5

5

100.0%

female

2

2

2

100.0%

---

Runners by Age Group

Open 18-39

all

9396

8225

7687

93.5%

male

4811

4293

3996

93.1%

female

4585

3932

3691

93.9%

Masters 40-49

all

7016

6211

5859

94.3%

male

4622

4113

3873

94.2%

female

2394

2098

1986

94.7%

Veterans 50-59

all

3073

2736

2519

92.1%

male

2460

2205

2037

92.4%

female

613

531

482

90.8%

Seniors 60-69

all

772

677

609

90.0%

male

672

593

533

89.9%

female

100

84

76

90.5%

70 & Over

all

87

77

59

76.6%

male

82

75

57

76.0%

female

5

2

2

100.0%

---

Runners by Sub Group

Visually Impaired

all

25

23

22

95.7%

male

17

15

14

93.3%

female

8

8

8

100.0%

Mobility Impaired Aided

all

12

9

7

77.8%

male

11

8

6

75.0%

female

1

1

1

100.0%

Mobility Impaired Unaided

all

0

-

-

-

male

0

-

-

-

female

0

-

-

-

---

Wheelchairs by Division

Open

all

45

38

36

94.7%

male

36

29

28

96.6%

female

9

9

8

88.9%

Quad

all

8

7

7

100.0%

male

8

7

7

100.0%

female

0

-

-

<![if !supportEmptyParas]> <![endif]>
The following is quoted from Ipswich Chronicle (my hometown paper):
"Leading the pack amongst Ipswich residents were a couple of imports from overseas in Russian citizen Yuri Laptev and Chinese citizen Hong Zhang. Laptev, 55, finished with a net, or chip, time (the time from when a runner crosses the start line to when they cross the finish line) of 3:04.38. Zhang, 39, was just behind at 3:14.52."
The following is an excerpt from Salem Evening News (the local paper covering 13 towns):
Ipswich's Hong Zhang, a 39-year-old Danvers research scientist from Chengdu, China, said he felt nauseous for hours after the race. He submitted a 3:14.52 and was surprised to place as high as No. 933.
"The heat was terrible. You train in the cold of winter and your body couldn't get acclimated today. The heat hurt me. I also had the misfortune that my bus to Hopkinton didn't arrive until 11:45 (for a high noon start). I then had to run about a half mile to leave my bag on a bus, and run back to the line. The arrangements are usually pretty good. I don't know about today," Zhang said.
I am the fourth place among 150 North Shore runners in this year's Boston Marathon. I was surprised!
Originally Written on 5/25/2004