Preparation
My primary marathon for 2004 was supposed to be the 108th Boston Marathon, but I did not prime my body adequately so I had to choose a marathon at a later time before the summer. VCM would be ideal, but this popular marathon was filled probably in January. Fortunately, VCM allows bib number transfer and set up a Web site for selling and purchasing bib numbers among runners. I got one from a runner in Virginia who pulled out due to injury.
I was cooked at VCM in 1999 when the temperature skyrocketed to over 33°F on the race day, however I fell in love with VCM and Vermont people. I cannot adequately describe in words how nice they are.
The Boston Marathon on April 19 was essentially a hard long run for me. Soon after it, I started training by winning 21st Annual Bonnell Bunny Hop on April 25. I felt that my core endurance was adequate, but my speed needed to to be improved significantly. I decided to use local shorter distance races as speed workouts to sharpen my speed. Following the Bonnell Bunny Hop, I placed 4th (1st of my age group) at Hull Street 4-Miler in Wenham on May 1, 2nd (1st of my age group) at 4th Annual Landmark 5K Road Race on May 8, 4th (2nd of my age group) at 9th Annual Melody Miles 5 Miler on May 22. I did 4 21.75 miles long runs with the last one in 7:13/mile pace. I did my last serious workout on May 24. That is a 12.9 miles run with the last 11 miles in 6:47 pace. After that, I ran a total of 12 miles before the marathon. I debated in my mind about which shoes I should wear for a while. I usually wear Saucony Grid 3D Be-Gone. At the Boston Marathon, I wore my training shoes - Saucony Grid Trigon Responsive Cushioning (the best training shoes that I have ever found). I felt good at the Boston, but Trigon is a little bit heavier than Be-Gone. On Thursday, I spent some time evaluating these two options by alternating between these two pairs of shoes and concluded that Trigon's responsiveness is worth more than the lightness of Be-Gone.
From the comfort I felt at my long runs and my race speed, I projected a marathon time of about 2:50. My confidence got even stronger when I saw that the race day weather was relatively cool.
Pre-race events
I planned to arrive at Burling before noon, but I did not start out until almost 12:00 and arrived at Sheraton Conference Center, the race headquarters at about 16:30 due to various reasons. After picking up my number, I quickly walked through the fitness expo and to my surprise, I found the company (BaySix) that sells running caps with peace sign that I failed to find a few months ago. Unfortunately they had only one left. They are very friendly people. In addition to the cap, I also bought three pair of socks from them. I ran into Dave Jefska of my former running club North Shore Striders. He told me that a few other NSS members were also there.
I headed straight to the Conference Center of Saint Michael's College for lodging. The conference center is so new that two people on the campus whom I asked had no idea about it. The campus was very quiet because most students had left for summer. I went to a building that seemed to have some activities and it was exactly my lodging place with a sign of "Welcome Runners". My room was in a 8-room suite with two bathrooms, a living room. Only three rooms were occupied. Each floor had a kitchen and a big meeting room. It's a perfect lodging place for me - no frill, but adequate for everything necessary. All the staff of SMC whom I met online, on the phone or in person are very friendly.
I went back to Sheraton for the keynote speech but found it was in the race dinner room and many runners were still enjoying their pasta. I left for downtown Burlington to find my own dinner. I do not know what pollen I was allergic to, I could not stop my tears when walking in downtown Burlington and I was embarrassed by this. After failing to find buffet style restaurant, I went o Five Spice Dim Sum, an Asian food restaurant owned and run by Americans. It has got very good reviews. The food is more expensive than most Chinese restaurant, I ordered three entrees of appetizers and a soup. They are very well prepared, but the Chinese cold noodles are much worse than what I can cook. The $20 dinner left something do desire. I went back to Saint Michael's College and went to bed at 22:00 after cooking my rice porridge.
I got up at 4:00 and found I forgot the pan to steam buns in my rice cooker so I had to just throw the four buns into the rice porridge to cook them. It turned out to be not too bad. After a shower, I finished my pre-race high carbohydrate, low fiber breakfast by 5:15.
I had no problem at all in finding a parking spot very close to the start line at 6:30. After going to a portable toilet, I started stretching and warm-up at a parking lot of a beautiful apartment building for senior citizens. I was finally dressed in racing apparels, protected by sunscreen at 7:30, then headed to the starting area for the second visit to a portable toilet. I did not see any NNS members.
The race
The only one wheelchair athlete started at 8:00 and 5 minutes later the main race started. I started with three or four rows of people in front of me and passed the start line in 5 seconds. Unlike the Boston, I did not have to wiggle among runners for the first few miles. It became quite thin within in the first mile. As expected, I immediately got a call of nature after the start even though I answered one 20 minutes before the race. I could not find any type of men's room until the 5th mile on a highway where I found an organic bathroom in a bush and I felt much better instantly after visiting it.
The weather was warmer than I thought. There were only 6 water stations for the first half. The wind makes me feel cool. I drank probably only a third of small cup of Gatorade at each water station. On the the out-and-back stretch on Rt. 127, Linda Scannell, a member of North Shore Striders on the other side of the road yelled my name and I recognized her immediately. About half a mile later, someone yelled my name, but I could not recognize him, but I speculated it was a runner I met at thread of one of Runner's World online forums (This was confirmed after the race). Dave Sullivan, another North Shore Strider called my name on Church Street in downtown Burlington.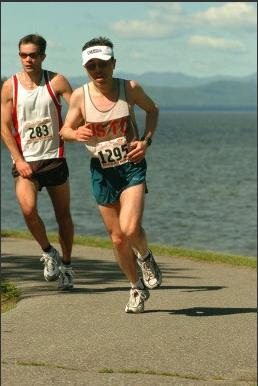 Kiss Lake Champlain
Apparently he pulled out of the race and spectated it instead.
I was running quite comfortably and in good control of myself. When a group of six runners passed me in the 11th mile, I did not attempt to hang on with them. I controlled my pace by keeping a constant effort. I caught up and passed that group in the first half of 15th mile. The second half of 15th mile is a long ascent. I felt good and charged through it. I finished that mile in 6:48.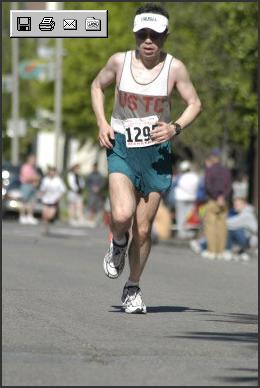 Charge Battery Hill
I felt victorious at the end of that mile and I eased my effort slightly to try to recover from that charge. Soon I was battling strong head wind on the highway-like street - North Avenue. At the always weird critical point of mile 17, my legs started to get heavy. I was a little bit worried and hoping the wall would never fall on me. I was slowing down gradually. Something was happening, but I did not know what it was. I pushed myself slightly on mile 20 and got the pace under 7:00, but I felt I could not sustain that pace and I would probably have hit the wall if I had kept pushing hard. I got into a survival rhythm in low 7s pace. In the last 10K, one thing was very clear that I was dehydrated because I felt thirsty. Once one feels thirsty at a marathon, the damage is already done and it is irreversible. The only thing one can do is to prevent it from getting worse. I took more time to drink in the last five miles. The last four miles of the course are a bike path by Lake Champlain. It is very beautiful, but all my mind had was survival at that time. Some people offered cold bear in the 24th mile, but I dared not to take the offer.
I was running at sub 3 hour pace till mile 16 after which I kept losing time for running sub-3. At mile 25, I saw that my chance of doing it was slim. I decided to give everything I got to the last 1.22 miles. The crowd in the last half a mile was great. Someone yelled my name, but I had no extra gas to turn my head around to find out who he was (it was confirmed later he was Dave as I speculated). The last quarter of mile was mentally tough because I had to pass by the finish area first, then came back to the finish. I sprinted to the finish in 2:59:54. I was relieved that I finally had a sub-3 in 2.5 years even though the whole performance is disappointing. I was the last person to beat the official 3 hour mark.
Post-race
When a volunteer wanted to help me to take off the Champion timing chip, I did not bother to sit on a chair. Instead, I lay on my back quickly. That immediately attracted two medical aid staff members to ask about my condition. I told them that I was fine but I just preferred lying instead of sitting. After getting my earned medal, I went to the empty food tent for marathoners (in contrast to the crowded tent for relayers) and got a small cup of ice cream, four pieces of bagel, two bags pf biscuits, a bottle of water and a banana. It was so windy that I felt chilly whenever the insulation sheet handed to me at the finish line was blown open.
After finishing most of the food, I was so tired that I went back to my car to have a badly needed nap in my car. I originally planned to cheer the few NSS friends, but I was apparently too exhausted to do so. I felt much better after the nap of about 1 hour, then I drove back to my room at SMC to have a refreshing shower. I did not feel that I needed another nap, so I checked out by dropping the keys at the empty front desk at 14:00 (it would not be staffed until 15:00). After failing to find a buffet restaurant by asking people around again, I went to China King on Rt. 15 and ate a very good meal of beef with a lot of vegetables, soft white rice, hot and sour soup and hot tea. I left Burlington for Ipswich with a very happy stomach.
I stopped at rest areas twice for visiting men's room, etc. To my surprise, I did not feel the need of nap. The post-race nap must have been very powerful and all the drinking and eating must have been very appropriate. I arrived at home at 18:30.
Six days after the marathon, I went to the Deer Island weekly 2.65-mile race organized my Tom Derderian's family in Winthrop and won it in 15:07. I felt completely recovered by that time.
What went wrong
My finish time is almost 10 minutes off my projected time. Judging by how quickly I recovered from the race, I apparently did not run to my potential. There are the following possible reasons in decreasing likelihood:
Dehydration. The deceiving nice cool weather broke my usually strong guard against dehydration. I simply was too sloppy in taking fluid. This is by far the most likely reason.
The charge on the Battery Hill was too hard and had its toll in its following miles.
Running a few too fast miles in the first half.
Did not taper enough before the race.
Appendix:
Mile Lapses
7:03 6:30 6:30 6:39 7:37
6:39 6:47 6:47 6:42 6:30
6:48 6:50 6:45 6:38 6:48
6:53 6:56 6:59 7:17 6:46
7:12 7:01 7:04 7:02 7:04
8:08 (6:41/mile)
2004 Overall Marathon Results (1 Total Runners)

Overall Place

First

Last

Age

Sex

Bib

City

State

Half Marathon

Net time

Gun time

Pace

53

Hong

Zhang

39

M

1295

Ipswich

MA

1:28:42

2:59:49

2:59:54

6:52