Prologue
My missing marathoning was getting really bad in 2009. I had not run any marathon since the 2004 Vermont City Marathon though I never completely stopped running. In late April, after watching the exciting Boston marathon, I decided to run a marathon with whatever shape I had instead of waiting till regaining my racing shape. The logic choice was the Vermont City Marathon on the Memorial Day weekend. It is widely accepted as one of the best marathons and I ran it twice and thoroughly enjoyed it every time. I love the race, the place and people of Vermont. To my surprise, the race was still open till just a few weeks before the event unlike in 2004 when it was filled months before. This was most likely due to the recession. I had very pleasant experience with lodging at Saint Michael's College in 2004, but they did not offer any lodging this year due to conflict with commencement. I decided to stay at its replacement - University of Vermont for $50 on the night of Saturday May 23, 2009.
The preparation for the marathon was despicable. The weekly mileages of the 8 weeks leading to the marathon are: 8, 15, 17, 50, 56, 27, 32, 25. I did only two long runs: 20 miles on March 28, 22 miles on April 25. I hiked the 21-mile Wapack Trail on May 2 with my friend Rob. I planned to treat the marathon as just a long run.
I took Friday May 22 off to work on some projects. On the evening, my neighbor Joe and I continued to try to install the battery powered Duette Honeycomb Shades for our skylights of the cathedral ceilings. The product is very poorly designed. After struggling for a while at Joe's home without getting the shade moving, I gave Joe my shades that seemed to work and it did work after installation. Later I found the battery of Joe's original shade has defect and I would have to contact Hunter Douglas for replacement.
I ran 3.5 miles in the morning on Saturday May 23 and started out at about 9:30. I took some back roads to reach Rt 495, then Rt. 93 and eventually Rt. 89. Rt. 89 is very scenic. It is a pleasure to drive on that beautiful road. I had a sushi lunch at Peking-Tokyo in Lebanon, New Hampshire followed by a short nap at a rest area. I reached the fitness expo at the Sheraton Hotel and Conference Center around 14:30. After picking up my racing bag including bib numbers, chips, etc. and doing some shopping, I watched the movie Run for Your Life, a story about Fred Lebow, the founder of the New York City Marathon. I found that I forgot to bring extra socks, so I bought two pairs at my favorite vendor BaySix.
I checked in at the nearby University of Vermont which dorms are the favorite lodging place for many events (mainly academic conferences) in summer. My room is the dorm building of Honors College which grant privileges to outstanding students in housing and curriculum. Each suite has two rooms, each of which has two beds, and two bath rooms. Each floor has a common room and kitchen and the building has a nice lounge and provides both wired and wireless Internet access. I went back to the Sheraton Hotel to have a very good pasta dinner with salad, steamed carrots, lasagna and dessert. I also wrapped three rolls for the pre-race breakfast because I did not bring anything for breakfast this time. The evening speech was given by Sarah Reinertsen, the first female leg amputee to complete the Ironman Triathlon. She is a star Para-Olympian. I sat with Jim from Dayton, Ohio, Dave from New Hampshire and Doug and his family from Philadelphia. The chat was very pleasant.
After browsing Internet for a short while, I was ready to go to bed. My roommate was Seth, a college professor from Miami, Florida. He is a member of the 50 States Marathon Club which members have or are trying to complete a marathon in each of the 50 states. He has only 4 more to finish the feat. My pollen allergy did not abate in Vermont which must share some trees with Massachusetts. My sneezing and running nose continued to annoy me. I fell asleep without any problem at about 21:00. Air conditioning seemed to be started at about 2:00 due to the drop of temperature and I started sneezing. To avoid waking up Seth, I sneezed underneath a blanket. I woke up at about 4:00, but I forced me to go back to sleep for another an hour or so, then got up to finish my morning ritual. I finished the 4 rolls that I got from the pasta dinner as my breakfast and kept drinking a bottle of Gatorade because my urine was yellow last night but I did not want to hydrate myself then out of fear of waking up to go to bathroom at night. I used the toilet twice to empty myself as much as I could.
I knew there would be plenty of parking space, so I drove to the area of start line but I could not find a parking spot, then I drove back to College Street and parked at a spot that is only about 500 m from he start line. I went down to the Waterfront Park to relax. I noticed a parking lot 100 m from the finish line. I struck a conversation with a cyclist and he told me anyone can park there and it is free. I rushed back to my car and drove to the parking lot. This place must be the best kept secret in terms of parking. I casually walked around the Waterfront Park watching volunteers, vendors setting up tents at the finish line. I wen to a restaurant/marina and took advantage of its nice men's room. By then, my urine was finally clear. I went back to my car at about 7:30 and took off my pants and jacket, put on sunscreen, and gel to prevent chafing. The start area was very crowded and as always there were long lines in front of 20 or so portable toilets. I got into one line. I used the portable toilet again 3 minutes before the start after finish some light stretching. I was certainly well hydrated.
The race
The race started a few minutes late. The wheelchair race started at about 8:03 instead of 8:00. It took about 3 minutes for the 3 to 4 thousand runners to cross the start line. Since I planned to use this marathon as a long run, I decided to start from the very back so I did not get into the runners' column. Instead, I stood on the side waiting for the runners to pass by me. I was among the very last. It was the first time for me to run a race from so back in the pack.
It was drizzling and the temperature was around 15°C. That was perfect for me suffering from pollen allergy. Though I was jogging at my slow pace, I started passing runners immediately after crossing the start line. It turned out to be somewhat challenging. I had to zigzag frequently.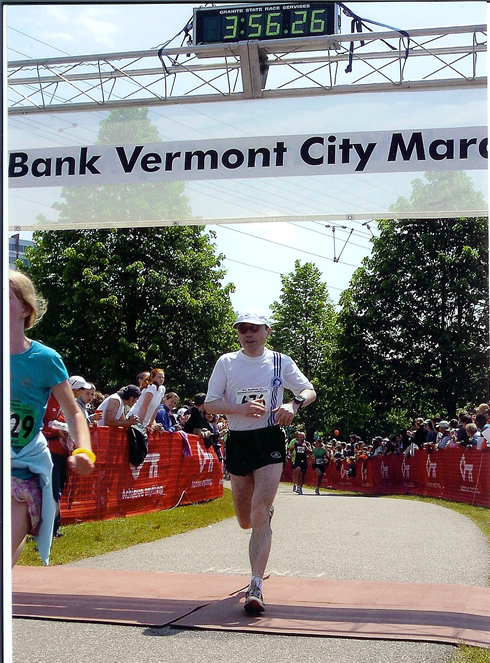 As always, I received a call of nature soon after the start even though I answered one just a few minutes before the gun. This is always very frustrating. The three toilets at mile 2 had a short line in front of them. Thank goodness, the route goes back to the start area where there are plenty of vacant portable toilets. I relieved myself there and felt instantly better and started taking Gatorade at aid stations. Even though it was drizzling, friendly Burlington people were still lining up along the streets in downtown area to cheer runners. However, there were not many musical bands this time. I miss the violinist at a bridge over Rt. 127. At mile 6, I saw a little girl running with beautiful stride in front up me. I caught up with her. She told me she was 11 years old and was running the 5-mile leg for a relay team. I noticed that she was panting. She was working too hard considering there were three miles to go. I thought it would be bad idea for me to stay with her to influence her pace so I wished her good luck and took off.
Due to lack of training, I kept reminding myself not to kill myself early by running too fast. I kept running at a very comfortable pace till mile 20. After the first 2 miles of zigzagging, my place settled to 8:20mile to 8:30/mile. The steep 0.25 miles uphill at mile 15 slowed my pace only to 8:36/mile. The drum band at the hill was great. The drizzling stopped around 10:00 and the sun came out at about 10:30. By that time, I was already in mostly shaded part of the course.
As usual, the real race started after the first 20 miles. My pace slowed to over 9:06/mile for mile 21, 9:29/mile for mile 22. I missed Carb BOOM, a relative new power gel at mile 11.1 and 18.6. One boy at an aid station in mile 23 happened to have one and I grabbed it without hesitation. It tasted great, better than Power Gel or Gu. I finished the mile in 9:43/mile. Things were coming down so quickly, I started to walk in fear of collapse. After walking for 0.2 miles, I felt better and resumed walking and finished mile 24 in 12:07. A group of people were offering ice cold beer, I took a cup even though I do not drink alcohol because I do not like its taste. After drinking so much Gatorade I just wanted to drink anything that tastes different from it. The cold beer was a good fit. I was proceeding very carefully and finished mile 25 in 9:48. After mile 25 mark, my confidence soared. I knew that finishing the race was out of question. I finished mile 26 in 8:40 and started sprinting to the finish line at 6:45/mile pace.
Epilogue
At finish line, I felt that I had too much left. The early fear that caused walking was apparently not justified. I could comfortably bend to take off the ChampionChip tied on my shoes and walk with little limping. To help the environment, I did not take an insulation sheet. It was quite warm. The food for marathon finishers were great. It includes bagel with cheese or peanut butter, mini donuts, yogurt, cookies, fruits, pretzels,etc. The party tent was offering beer. I skipped it and went to my car and drove back to my room. I decided to have a nap first before taking a shower and I felt asleep very quickly. Seth came back at about 13:30 and woke me up. The timing was good. I had a shower, chatted with Seth a bit and checked out. I saw Jim on my way to my car and he ran 2:35, 10th place overall and 1st place of our age group. He does look like an elite runner.
I stopped at the first rest area on Rt. 89 to get a Vermont Tour map to see if I would be able to visit some interesting places on my way home. I found the Green Mountain Cafe and Visitor Center in Waterbury operated by the rising company Green Mountain Cafe. My mobile phone based Google Map directed me to a place of nowhere very far from the correct location. A farmer gave me the right directions. It was a very small building near a train station. I got a cup of ice coffee and bought two bags of Vermont Blend coffee. I arrived at home at about 19:00. I had brief chat with my neighbor Joe learning the skylight shade works very well. I gave him a bag of coffee.
I planned to ride my bicycle for the days following the marathon as my morning exercise, but I skipped them due to getting up late. I did my first post-marathon run in Dallas when attending 2009 ASAIO. The area surrounding Hilton Anatole was not very suitable for jogging. You either hit roads with heavy traffic or areas making you wonder if you are safe. However I ran every day for three days there during the meeting.
Appendix:
2009 Vermont City Marathon Pace
Mile
Min
Sec
Splits (min)
1
10
13
10.22
2
9
9
19.37
3
9
0
28.37
4
8
45
37.12
5
8
19
45.43
6
8
14
53.67
7
8
20
62
8
8
37
70.62
9
8
25
79.03
10
8
20
87.37
11
8
36
95.97
12
8
24
104.37
13
8
46
113.13
14
8
41
121.82
15
8
35
130.4
16
8
30
138.9
17
8
34
147.47
18
8
34
156.03
19
8
26
164.47
20
8
27
172.92
21
9
6
182.02
22
9
29
191.5
23
9
43
201.22
24
12
7
213.33
25
9
48
223.13
26.22
10
9
233.28
The following is my results in graphical form (courtesy of RunPix)